Ohhh, the excitement is in the air! All over both blog land, and in stores, I see so many projects on organization, reno's and projects for the home (and body, but that's a whole 'nother story!). I have quite a few projects to jam into a short amount of time! You see, I'd really like to be done many of these before baby comes in mid-March. Once babe is here, I want all focus to be on her and our other two girls, without distraction of 1/2 completed projects!
Anyhow, without further ado, here are (some of) our homes 2012 project list (I have many more ideas in my head, but I'll start with these =):
1. Girls Rooms:
-paint, board and batten in both rooms-in progress, as you can see from our mess!
-incorporate the nursery into one of their rooms (they will now be sharing rooms)
-(sniff, sniff) taking away the 'little girl fairy theme' in my older daughters room, and turn it into a bedroom a 7.5 year old would love (think horses, as this is her utter obsession).
2. Mudroom:
-I am searching for a durable (possibly outdoor?) fabric to make into a cushion for the built in bench.
-we have a great foundation, but I want to make the room really special (and more functional) with board and batten (on the wall above), a fabulous stencil, and some decor.
-I ordered this stencil from Cutting Edge Stencils:
-the background colour will be a blue/grey (Horizon Grey by Benjamin Moore) and the top (stencil) portion will be a 1/4 tint of this colour. The stencil will be on the top portion of the wall with the board and batten.
-think B/B with pretty wrought iron hooks, and fancy corbels holding up a shelf which can display pretties. Very roughly, it will be similar to this:
(Image: Pinterest)
3. Laundry Room:
-goodbye mustard yellow. goodbye ugly wire rack (new shelf is on the counter, waiting to be installed)
-paint, beadboard wainscotting, and accessories to be added.
4. Hall and stairway:
-paint (Horizon Grey as is the rest of the main floor) and accessorize. Any ideas for this huge wall? A gallery wall may be cool, but I was thinking more with mirrors or clocks rather than pictures. I also need something for the shelf where the clock is sitting. Maybe a funky, vintage piece?
-stain baby gate (an unfortunate design element, but a necessity when you have youngins)
Phew! Not sure that we'll be able to tackle it all, especially seeing as how I'm WAY more limited in what I can do, now that I'm close to 8 months pregnant! Let's just say that any form of bending just isn't my forte at the moment =)
Of course I'll be showing you each step of our 'reno's'!
We have just completed a mini-redo of our daughters bathroom (which also serves as the guest bathroom), and will show you just as soon as I pick up their new shower curtain at PB tomorrow. I love how it's turned out!
Linking to my
Favorite Parties
!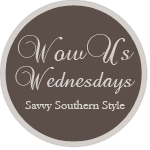 Nester's Home Goals Party!