Whatever the style of this armoire is called, I love it. I have now banned myself from surfing Kijiji (for now =). Really, how much furniture can fit in this house without it busting at the seams?
But this one called out to me. I had to have it.
I have yet to style the top, and we have the other pull from the lower drawer.....just have to put it on.
It looked like a piece that someone painstakingly chalk painted and distressed to look old.
The best part? It actually was already like this. Not trying to look old and chippy....is old and chippy. Oh that's the best type of chippy out there!
It was bought at auction in New Orleans by a furniture refinisher here in Alberta. She brought it back up with her, using it for storage in her shop, but decided to sell it (lucky me!). Ironically, she's the local chalk paint dealer, so I had seen this piece before when at her shop, and admired it longingly (before it was for sale). She was told it was 80 years old, and while this paint finish isn't original, it was done many moons ago.
Love the funky colour, love how rustic it is. We had a young girl over when my hubby brought it into our basement. She looked at it like I was crazy to want this old, chipped up armoire. I explained to her, that when I was 13, I would have likely agreed with her, but my tastes have changed and I love 'cool old stuff'!
How about you? Have you always loved old and rustic with patina, or has your taste evolved over time (or do you not see the appeal of vintage even now?).
Linking up to my
Favorite Parties
!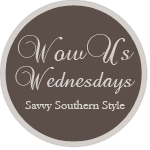 Linking up my old, chipped up armoire to
Nester's Perfectly Imperfect party
.