Way back in June of 2010, I took the plunge and started this blog. Wowzers, almost two years have past, and so much has changed....a new baby, a big move, selling my vet clinic.
As many of you know, we moved almost one year ago, from Vancouver Island to Alberta. We moved into a newer home, and while it is on 3 acres, with beautiful views of rolling hills, the mountains in the distance, and horses in the surrounding fields, the yard itself is pretty much just grass. We are working hard to create a landscape reminiscent of our old home. Today, I am getting all sentimental and sharing my very first post, featuring our beloved outdoor patio.
Here is the original post:
With the summer solstice happening today, I thought that my first 'real' blog post should show one of my outdoor spaces. This is our back patio, which is one of my absolute favorite spots to sit back, relax, and lounge (well perhaps less lounging and more running after the little munchkins, but one can dream, right?) I love that this space is covered, so it can be used year round.
This shows a corner of the space which will one day be transformed into our outdoor kitchen. I see a built in grill, bar fridge, concrete counters......hmmm, maybe I can convince hubby to start construction on this sooner than later?
We're lucky enough to have an inground pool (not very common in these parts). The girls (and us big kids too) love it. I can sit in my 'lounge' area and watch the girls swim.
With 2.5 acres, it can be hard to call in the troops when you need to. This handy dandy bell sure helps with those 'it's time for dinner' moments.
One of the gardens, pool-side.
Another view of our patio. We bought the furniture at Sears, and the outdoor rug at Home Depot.
Love the outdoor clock. On the other side, it's a thermometer. Bought at Costco a few years ago.
When we moved into this house, 4 years ago, the ceiling fans were indoor fans. The fan blades had warped over time and were 'hangin' limp'. I absolutely love these new indoor/outdoor fans (Home Depot) which keep us cool on those hot summer days. We also have pot lights in the ceiling which is great for lighting. Truthfully, I prefer the glow of candle light in the evening anyhow =P
I love this lantern, which was bought from a local artisan. The rain chain makes such a pretty sound when it's raining outside. Peeking in the background is our guest house. It's a great space which will be the focus of many future blog posts as we renovate it.
Enter 2012, and our new yard:
Here are a few sneak peaks at our current deck:
This past weekend, we started our vegie garden. The house in the background is our neighbours home, still under construction. So far we have raspberries and strawberries planted. We will eventually fence the garden, and put in a pretty gate in the centre. It is a huge garden, at 30 X 50 feet. My hubby is going to be busy tending it! He's in charge of the vegie garden while my gardening interest is perennial gardening.
We have some very ambitious plans for our yard. This year we are just trying to get the lawns improved, do some maintenance and put in a few gardens. Next year, the real fun will begin!
Joining in the fun at: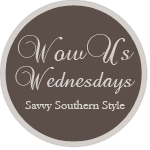 Linking to my
Favorite Parties
!